Ropes Course
One Day Adventures has been providing ropes course programs for satisfied clients all over the country for the last 10 years. We deliver the best run, most cost-effective ropes courses anywhere. We'll see you on the course!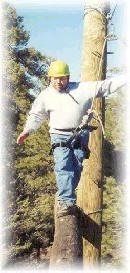 A Ropes/Challenge Course is a team building program that incorporates communication, trust, problem-solving and fun.
The Ropes/Challenge Course includes: Games and Initiatives, Problem-Solving Activities, and High Ropes Course. Each of these can be customized to best fulfill the needs of your group and create an experience that provides the greatest opportunity for group development.

Games and Initiatives
These are interactive and hilarious games designed to break the ice and begin a foundation of team work. These activities will begin to break down interpersonal barriers and develop a foundation of group cohesion.

Problem-Solving Activities
During the problem-solving activities, participants begin to confront difficult group challenges while learning how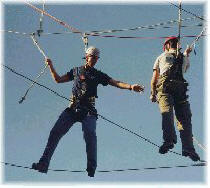 to work together. Each activity is designed to resemble similar work-like situations so learning becomes applicable to work-based problems and solutions.

High Ropes Course
The High Ropes Course provides the opportunity for the individuals of the group to practice success and choice with in their comfort level. Through the use of perceived risk and total support individuals can begin to realize how to succeed. Each of these activities begins at ground level and culminates between 25-50 feet off the ground. This is the ultimate corporate team building event that must be experienced!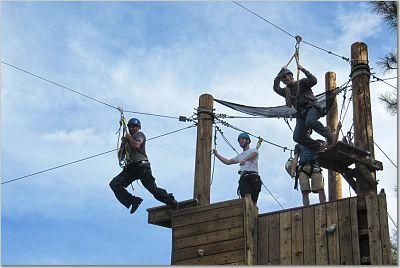 Ropes Course Team Building Benefits:
Ropes/Challenge Course program provides opportunities to develop reliable bases for making informed choices, increase social competency and resilience, and improve communication skills, thereby preparing for current and future leadership positions.

• Appropriate interpersonal behaviors and social communication skills
• Peaceful conflict management techniques
• The use of inquiry to enhance problem-solving skills
• How to build healthy attitudes and individual strength of character
• Increase self-motivation, constructive expression and assertiveness
• Gain skills for coping with a variety of environments and situations
• Learn to set long- and short-term goals
• Focus energy and commitment toward future goals
Competition Comparison
Throughout the country over 95% of ropes courses are located at summer camps. The local summer camp is open all summer to campers and the ropes course is part of their experience. The ropes is facilitated by summer camp staff that range in age from 16-22 years of age. During the non-summer months, the ropes course is seldom used and may become dormant.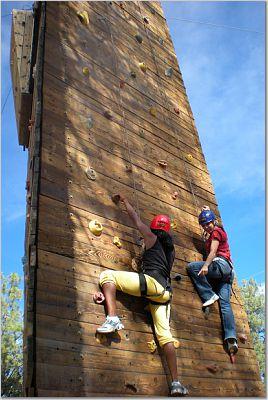 One Day Adventures utilizes ropes courses all over the country for their corporate team building programs. Unlike summer camp staff, our facilitators have advanced degrees in leadership and team building. Our facilitators know how to utilize the high ropes course experience and extract the learning and apply it to work-related situations. One Day Adventures facilitators deliver an authentic and real-time team building program. Our facilitators understand team development and how to make what is learned about the team during the ropes course event transfer back to the workplace.
One Day Adventures' facilitators are also technical experts with the programs they facilitate. Not only do our facilitators debrief the ropes course experience and assist in the transfer of learning to the workplace, they also are certified ropes course technicians and builders. A One Day Adventures facilitator can build your team and teach you about the safety equipment at the same time!
There are other team building companies that utilize ropes courses around the country as well. These tend to be large team building providers that offer tens to hundreds of team building programs to their clients. With such a large array of offerings, how can the company really be experts at each program if they only do it a few times a year? In reality, what happens is the large team building company relies on the summer camp to provide the team building program which puts you back to square one with sub-par facilitators. Even if your group is out to just have fun, why not work with us and we will amaze you with how we can work quality team building into even the most reluctant groups. The ropes course is a great activity by itself, but there is no team development if facilitators cannot provide transfer of the learning from the ropes course to the work-place. Whether the goal is light or specific team building, One Day Adventures will make sure team development occurs and that everyone has a great time!
Results Based Team Building
One Day Adventures ropes course event is a strategic program that provides significant team building results all while having a great time. Our facilitators are degreed and experts at both interpersonal-skill based facilitation (team building) and technical facilitation (ropes course operation and equipment). This provides an in-house winning combination that provides your group with lasting results.