Amazing Corporate Race Phoenix, Arizona
Just like the popular CBS show "The Amazing Race," small te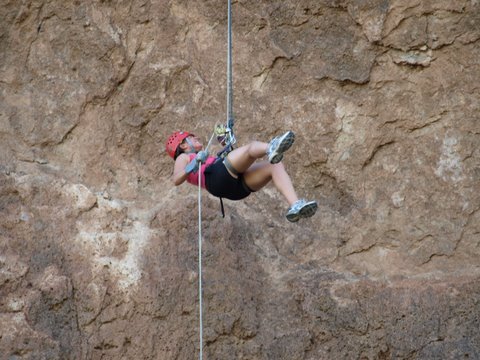 ams race around our large private facility. Teams encounter clues, team challenges, road blocks, detours, 80ft rappel, zip line, ropes course, navigational challenges, the music maker and much more!
One Day Adventures' amazing corporate race is the only race in Arizona to include a rappel, cable zip line and ropes course. This activity is best as a fun outing, or a reward for your team, team building is light with a significant fun factor. Participation in all activities is not mandatory.
Upon arrival at the race site, groups are split into teams and given specific instructions for the first set of activities. Once everyone is ready, the race is on. Teams race and compete in team challenges, road blocks, peak adventures, geo-caching (treasure hunts), photo missions and team discussions. Amazing Corporate Race can also be provided off site.
Team Challenges:: These are "road block" activities were individual teams need to work together to accomplish a task or solve a problem. Most of these activities are not very physically demanding. If the individual team completes the team challenge, they are rewarded with a certain number of points.
Peak Adventures: These are adventure activities such as mountain biking, rappelling, ropes course and zip lining. Teams score points by having members of their team complete these peak adventures. All equipment and staff are provide to assist you in completing peak adventures.
Geo-Caching: At various times during the race, teams will have the opportunity to find "hidden treasures" using a variety of clues with their GPS device or map and compass. Sometimes these hidden treasures are clues to a team challenge or they may be tools for a peak adventure. Points are also awarded for successful finds.
Photo Missions: Teams may find the opportunity to take some digital photos of certain landmarks or desert flora/fauna for additional points.
Team Discussions: Individual teams may earn extra points by participating in a discussion after completing a team challenge. Teams do not race against the clock, their goal is to accumulate as many points as possible during the race.
Team Building Program: The amazing corporate race is a great team energizer and competitive event. Discussions about team performance may be included, but in general, this is a fast paced, purely fun outing. However, the amazing adventure race may include more strategic team building, contact us for more details.
Inclusions/Details: Every amazing adventures race is custom-designed. All staff/facilitators are of the highest quality. Transportation, meals and other inclusions are on a per group basis.